TSS126-OVERSKIN Tray Vacuum Sealing System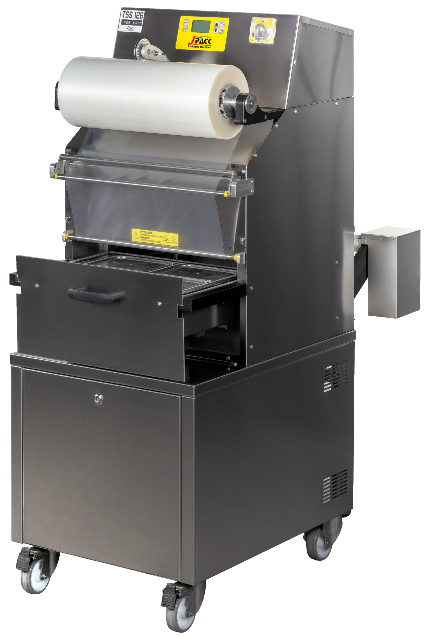 Thanks to OVERSKIN technology, the TSS126 semi-automatic pneumatic thermosealing machine allows not only traditional tray sealing, but also the packaging of protruding products, such as cuts of fine meat or crustaceans, with bulges extending up to 40mm. The technological efficiency of the TSS126 machine can be combined with the new packaging in cardboard with customisable graphics, for innovative sealing with a strong aesthetic impact.
The TSS126-OVERSKIN can provide various sealing options; Skin Packaging, Thermosealing only, Overskin Packaging, Skin and overskin over paperboard, Thermosealing + Vacuum, Modified atmosphere "MAP" (Thermosealing + Vacuum + Gas)
Suitable for use on a variety of products, including meat, fruit, cheese, pasta, liquids, as well as non-perishables.
Features
Pneumatic handling
Realised in stainless steel and anodised aluminium
10 Sealing programs
Electronic temperature control
Electronic Vacuum control with pressure sensor
Die-cut moulds
Automatic film unwinding with integrated scraps recovery
Fast and easy mould change
70 m3/h integrated vacuum pump
Maximum sealing area: 420mm L x 280mm W
Maximum tray depth: 100mm
Estimate maximum tray sizes (in mm) according to tray quantity.
---
We Also Recommend