Giftwrap 3000 Super - upgraded 2023 specification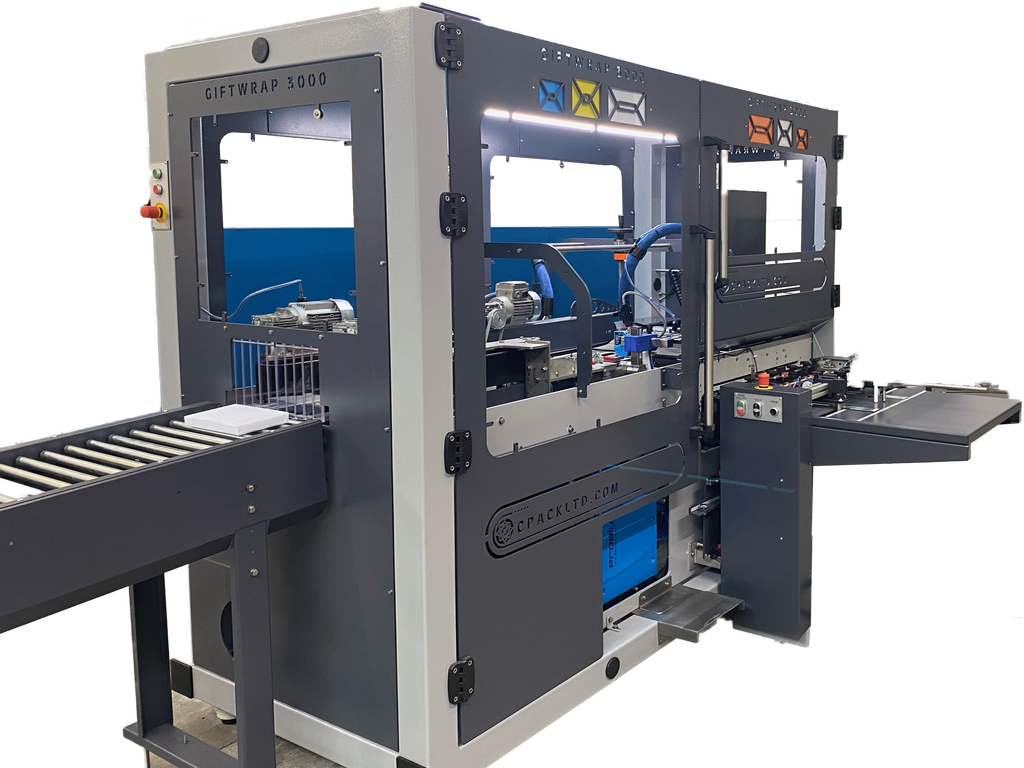 Advantages Include
Reduced Operator Involvement
Longer Production Runs
Suitable for a wide range of papers
We've outdone ourselves with our new
Giftwrap 3000 Super
. An Automatic Computer controlled system giving unmatched product flexibility and finish.
Able to wrap up to 50 products a minute, this gift wrapping machine is an essential piece of machinery for companies looking to wrap products in a variety of different papers.
Industry 4.0 Compatible See more
here!
Fully-automatic and complete with a magazine sheet fed, reel of paper or vertical sheet feeder mechanism options allowing use of your current material in any format on our
Giftwrap 3000 Super.
Traditional Paper-Wrapping Reinvented

Built to suit your production requirements, our Giftwrap 3000 Super wraps in a traditional method using materials which are widely used in factories globally. The machine gives products a hand wrapped appearance for gift boxes and toiletries improving sale appeal tremendously. Its computer controlled design allows our paper overwrapping machine to wrap a diverse selection of boxes sizes all in one machine with quick changeovers times to minimize downtime. Currently operating in countries world wide wrapping a large selection of gift boxes, chocolates and cakes. With an ever growing product portfolio our system can wrap many boxed products using plain or bar-coded wrapping materials.With an efficient design and intuitive operation this machine is the system you need to maintain a competitive edge in today's market.
Features
The Giftwrap 3000 Super has the following features:
Variable speeds of up to 50 products per minute
Available in Stainless Steel or powdered paint
HMI colour touch screen
Product related memorable setting
Auto aligns wrapping material for a perfectly symmetrical wrap every time
Wrapping looks hand wrapped giving traditional look
Controls on pivoting arm allowing easy operation from multiple positions
Industry 4.0 Compatible See more 
here!

Benefits
The Giftwrap 3000 Super would be an ideal addition to your production operations for businesses that require a machine capable of giving a traditional hand wrapped finish to gift wrapped items. Due to the speeds that the machine operates at, this machine will produce massive cost savings in labour while producing a perfect and consistent wrap irrespective of operator skill.
---
We Also Recommend